Our Projects
Developing opportunities
Together with our portfolio of halloysite-kaolin projects, Andromeda is also developing several copper and gold prospects across Australia.
The Drummond Epithermal Gold Project is comprised of five tenements securing a total area of 539 km2 in the gold prospective Drummond Basin in North Queensland. The Drummond Basin is prospective for high grade epithermal gold deposits such as Pajingo, located 70 km to the west which has produced approximately 3 million ounces of gold.
Surface geochemistry and prospecting has defined four previously untested targets. One of these is the Bunyip Prospect comprising 2,000 m of outcropping quartz vein containing anomalous gold and high-level pathfinder metals suggesting it is an epithermal system eroded to shallow levels with any gold zone potentially preserved at depth. Potential of the Bunyip Prospect is demonstrated in drillhole BUNRC005 that intercepted from 7 m, 4 m at 5.15 g/t gold.
Downloads
The Eyre Peninsula Gold Project (also referred to as the Wudinna Gold Project ) comprises six tenements totalling 1,928 km2 in the Central Gawler Craton Gold Province of South Australia.
The Project includes a cluster of deposits and earlier stage prospects including
the Barns Deposit,
the Baggy Green Deposit, and
the White Tank Deposit.
These deposits have Mineral Resources totalling 4.43 million tonnes at 1.5 g/t gold for 211,000 ounces using a 0.5 g/t gold cut-off grade, comprised of 0.41 million tonnes at 1.4 g/t gold for 18,000 ounces of Indicated Resources and 4.02 million tonnes at 1.5g/t gold for 193,000 ounces of Inferred Resources.
The Eyre Peninsula Gold Project is a joint venture between Andromeda Metals and Cobra Resources PLC (Cobra) under which Cobra (through its 100% owned subsidiary, Lady Alice Mines) can earn up to a 75% interest in the Project through expenditure of $5 million over 6 years from October 2017.
Further information can be found at:
https://cobraplc.com/projects/the-wudinna-project/
Downloads
ASX release detailing Wudinna Gold Project Joint Venture Terms
ASX release detailing Wudinna Gold Project Mineral Resources

Andromeda's Moonta Copper Gold Project is located on EL 5984 in the "Copper Triangle" of the Yorke Peninsula, South Australia.
In 2018 Andromeda entered into an Earn-in and Joint Venture Agreement with EnviroCopper Ltd subsidiary Environment Metals Recovery P/L to form the Alford West ISR Joint Venture over the northern part of the Moonta tenement. The focus of the joint venture is the evaluation and potential extraction of copper via in-situ recovery (ISR).
Andromeda holds a 90% interest in the Moonta Porphyry Joint Venture with Breakaway Resources, a subsidiary of Minotaur Exploration.
The Project includes the Bruce, Larwood and Wombat deposits that have a combined Inferred Mineral Resource 114,000 tonnes of copper within 66.1Mt of ore grading 0.17% Cu at a cut-off grade of 0.05% Cu. The Bruce and Wombat Deposits within the Project Area are considered to have the relevant attributes suitable for the in-situ recovery of copper.
Further information can be found at:

https://www.envirocopper.com.au/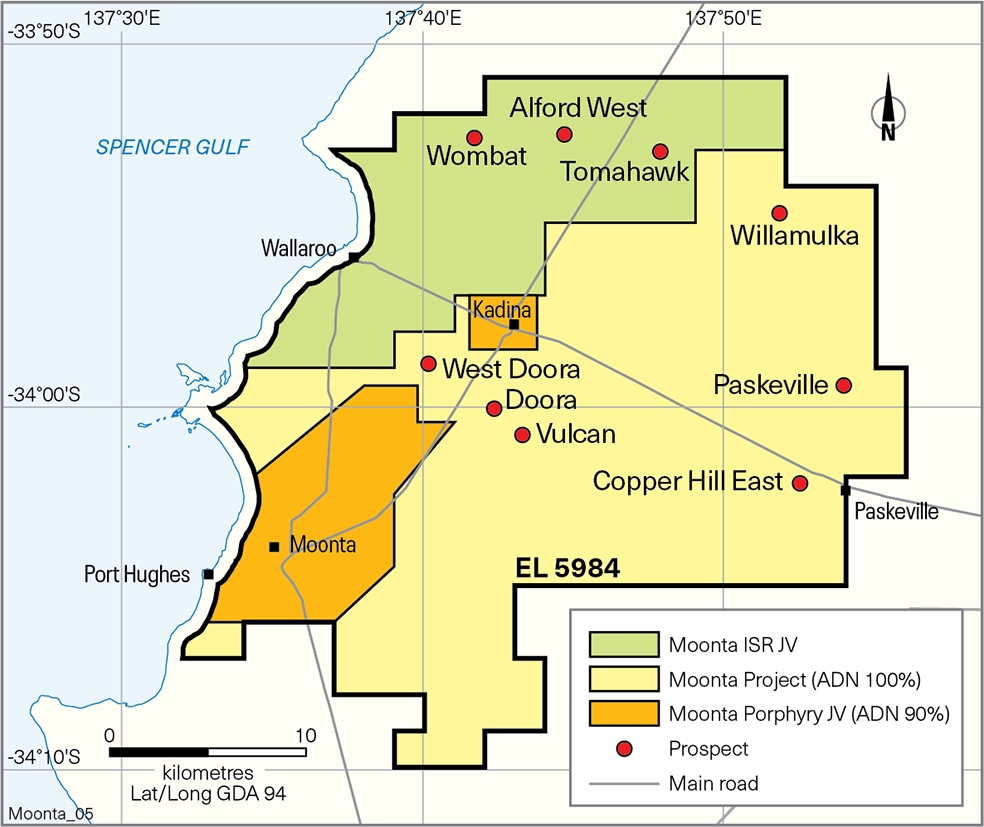 Downloads
ASX release detailing Moonta ISR Joint Venture terms

The Eyre Kaolin Project is comprised of four exploration tenements totaling 2,799km² on the Western Eyre Peninsula, South Australia in close proximity to the existing Great White Kaolin Project.
Andromeda (the Company) entered into a farm-in agreement with joint venture partner Peninsula Exploration Pty Ltd (Peninsula) in 2021 to expand the Company's portfolio of prospective world class halloysite-kaolin and kaolin deposits.
Following geological review, the land held by Peninsula appears to hold similar targets of halloysite-kaolin to those found across Andromeda's Great White Kaolin and Mount Hope Projects with recorded occurrences of kaolin clay.
Andromeda can earn up to 80% interest in the tenements through sole-funding expenditure of $2.75 million over six years from the commencement of the Joint Venture.
Downloads

ASX release detailing Eyre Kaolin Joint Venture terms
Halloysite from the Camel Lake Halloysite Project area is globally recognised for its purity and rare uniformity in tube length and diameter.

Identified in the 1970s, the Camel Lake halloysite has long been of interest in the industrial minerals field. In the minus 2 µm fraction, the clay is close to 100% halloysite.
Located approximately 60 km north-east of Ooldea in South Australia's far west, the mineralisation sits within the land of the Maralinga Tjarutja People. Camel Lake is part of the Great White Kaolin Joint Venture with Minotaur Exploration Limited.
As part of our strategy to supply the world with superior quality halloysite, we are looking forward to working with the Traditional Owners to secure a land access agreement and continue development of the Camel Lake Project.