Our Projects
Developing opportunities
Together with our portfolio of halloysite-kaolin projects, Andromeda is also developing several copper and gold prospects across Australia.
Andromeda's Moonta Copper Gold Project is located on EL 5984 in the "Copper Triangle" of the Yorke Peninsula, South Australia.
In 2018 Andromeda entered into an Earn-in and Joint Venture Agreement with EnviroCopper Ltd subsidiary Environment Metals Recovery P/L to form the Alford West ISR Joint Venture over the northern part of the Moonta tenement. The focus of the joint venture is the evaluation and potential extraction of copper via in-situ recovery (ISR).
Andromeda holds a 90% interest in the Moonta Porphyry Joint Venture with Breakaway Resources, a subsidiary of Minotaur Exploration.
The Project includes the Bruce, Larwood and Wombat deposits that have a combined Inferred Mineral Resource 114,000 tonnes of copper within 66.1Mt of ore grading 0.17% Cu at a cut-off grade of 0.05% Cu. The Bruce and Wombat Deposits within the Project Area are considered to have the relevant attributes suitable for the in-situ recovery of copper.
Further information can be found at:

https://www.envirocopper.com.au/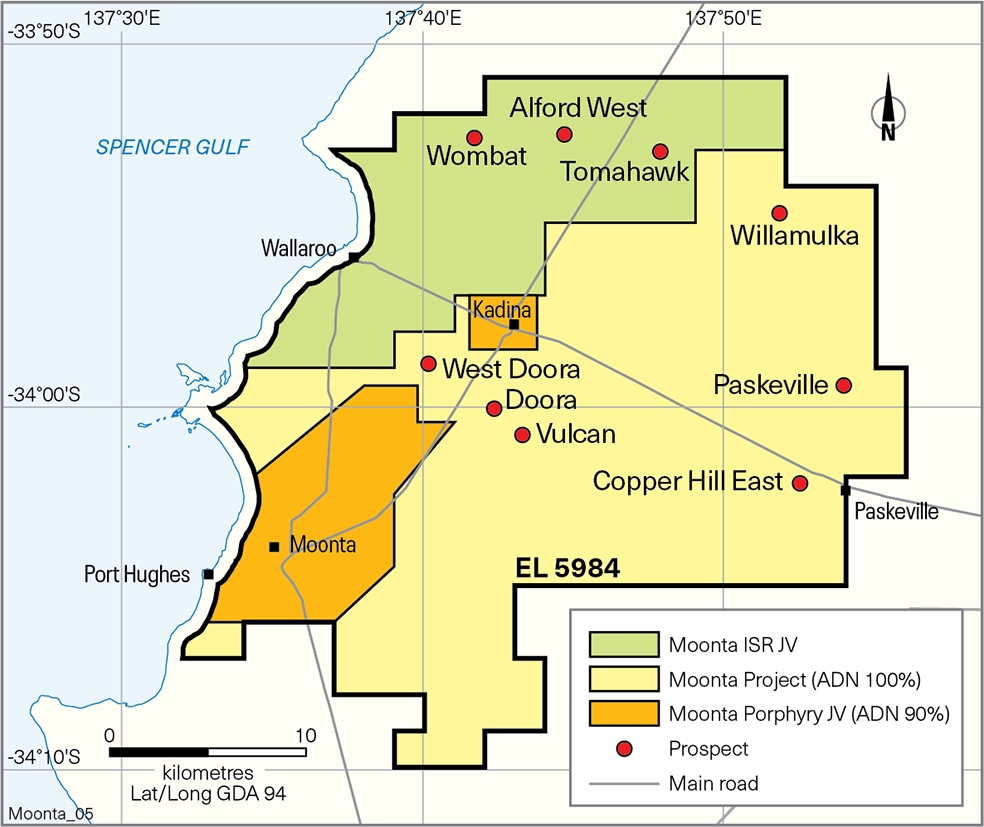 Downloads
ASX release detailing Moonta ISR Joint Venture terms

The Eyre Kaolin Project is comprised of four exploration tenements totalling 2,799km² on the Western Eyre Peninsula, South Australia in close proximity to the existing Great White Kaolin Project.
Andromeda (the Company) entered into a farm-in agreement with joint venture partner Peninsula Exploration Pty Ltd (Peninsula) in 2021 to expand the Company's portfolio of prospective world-class halloysite-kaolin and kaolin deposits.
Following geological review, the land held by Peninsula appears to hold similar targets of halloysite-kaolin to those found across Andromeda's Great White Kaolin and Mount Hope Projects with recorded occurrences of kaolin clay.
Andromeda can earn up to 80% interest in the tenements through sole-funding expenditure of $2.75 million over six years from the commencement of the Joint Venture.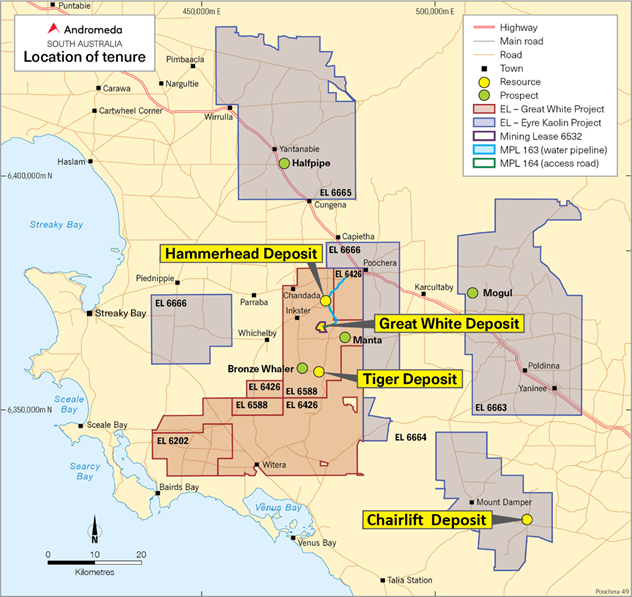 Downloads

ASX release detailing Eyre Kaolin Joint Venture terms